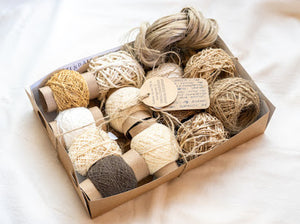 The Ultimate Yarn Sample Box-Large- 13 natural yarns & fibres
This ultimate yarn box has 13 different types of silks and natural fibres.
Great for some who wants to test try some yarns or a wonderful gift as well.
The 13 yarns & fibres;
Wild Tussar silk 'Ghicha'

Mulberry silk shiny

Wild Tussar Silk 'Katiya'

Balkal made from the stem of the Wild Tussar cocoon

Textured Cotton 
Thin Eri silk 
Bamboo

Thin Mulberry noil

Waxed Hemp 
Eri and Tussar silk noil
Raw Jute

Banana yarn

Jute yarn 
Each ball has been labeled so you know which one is which. Please note this pack has been updated with new variety of yarns.