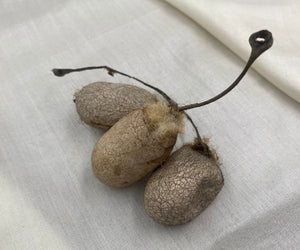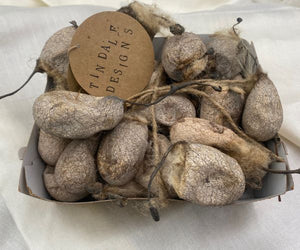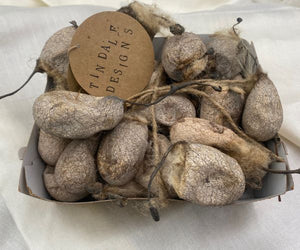 Wild Tussar silk cocoons 'Peace Silk'- Pack of 24 cocoons
Have you ever seen Wild Tussar Silk Cocoons? A lot different to Mulberry Silk.... hard eggshells with a very distinct stem where the cocoon is attached to the branch in the forest. All different colours some are light yellow, some grey and others are almost white.
When the adult Tussar moth emerges from the cocoon it needs to make a hole to get out. The cocoon from which adults emerge is known as 'pierced' because of this hole. This is also known as 'peace' silk as the moth hasn't be harmed during its lifecycle.
A pack of 24 cocoons for $60
(please note these aren't gift wrapped, they are in a brown paper bag and this will be bubble wrapped when shipped) 
All cocoons are unique, each different to the next. It's luck of the draw.
Amazing little sculpture or gift. You could even pull them apart and make your own yarn.
From Odisha, India